The News: CHARLOTTE, N.C., April 8, 2021 — Honeywell (NYSE: HON) committed today to become carbon neutral in its operations and facilities by 2035 through a combination of further investment in energy savings projects, conversion to renewable energy sources, completion of capital improvement projects at its sites and in its fleet of company vehicles, and utilization of credible carbon credits. These initiatives represent a continuation of the company's sustainability efforts since 2004, which have already driven a more than 90% reduction in the greenhouse gas intensity of its operations and facilities. See an overview of the pledge in Honeywell's newsroom.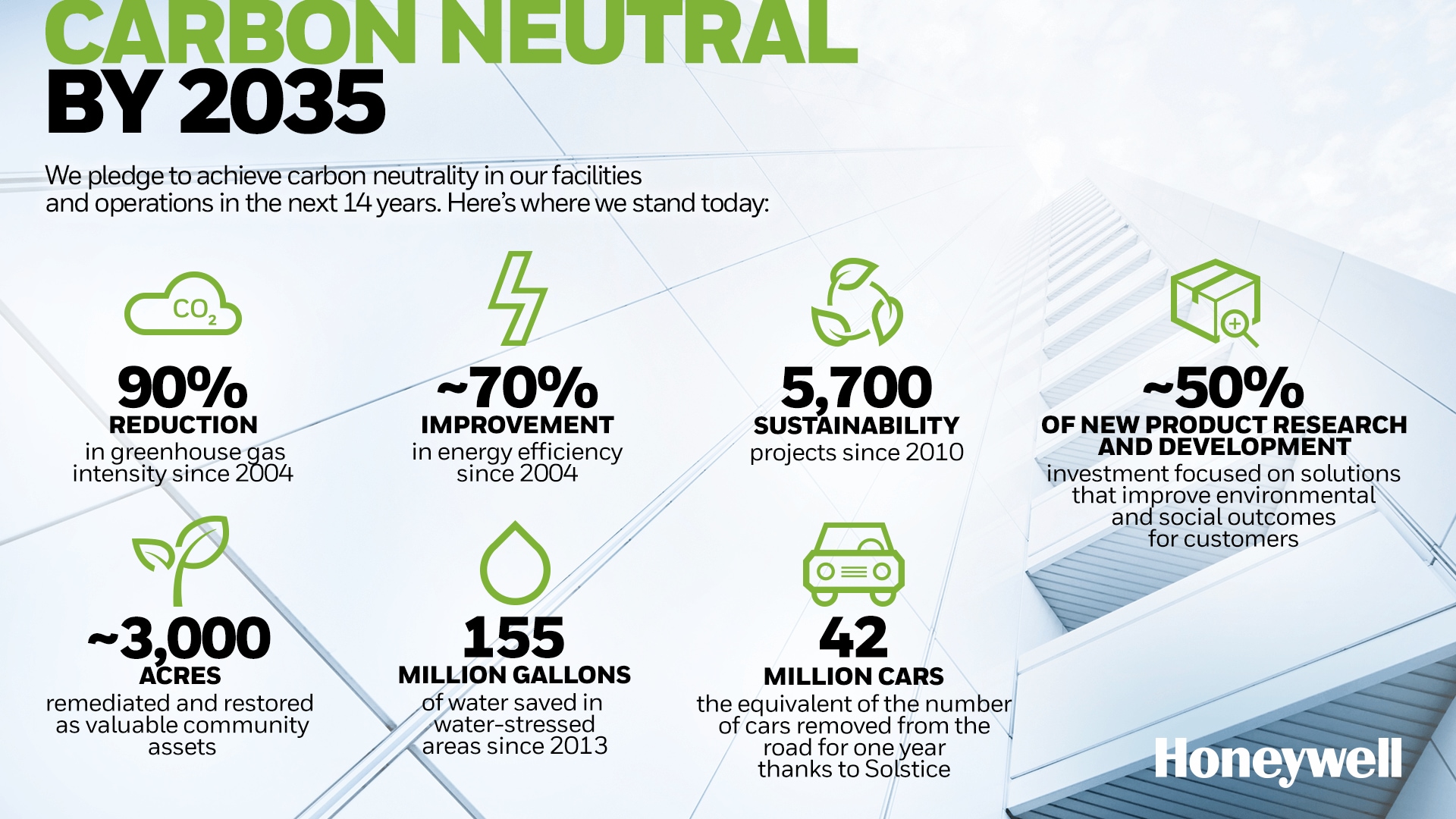 Analyst Take: Over the past few years, we have seen growing interest and commitments for and from tech to take a more prominent leadership role in climate change. Amazon notably took a strong position with its climate pledge, and now Honeywell is making a bold and vital commitment to more significant action to achieve carbon neutrality. 
I've been more actively commenting on Honeywell in the past year as I've watched the company transition from an industrial giant to a technology stalwart. Regardless of how the company is labeled, the commitment to carbon neutrality and the specificity of their 14-year plan provide a reason for encouragement as attention to climate change becomes a greater imperative.
While it has become more popular among tech companies to extend ESG efforts, it is great to see these companies being self-accountable and getting ahead of slow-moving regulations to do more to help the planet. I see this, in most cases, as a balance of proactive PR and corporate altruism. Large companies can be resource-intensive, so doing more to reduce the enterprise footprint isn't just a nice to have but a growing necessity.
Overall Impressions of The Honeywell Climate Initiative
I like that the company provided detail on the pledge and also showed some of its more significant contributions to date, including the 90% reduction in Greenhouse gas since 2004 and the 70% improvement in energy efficiency in the same period. These items represent just a few of the efforts to date by the company, and my expectation is with this commitment, the company is holding itself more accountable to meet these timelines.
As I see it, the company must continue to communicate and update the market on these efforts' impact. In a digitally connected world, 14 years may as well be 140 years, so we will want to know that the company is on track. I expect Honeywell will be prudent in keeping the market apprised of its progress toward meeting its climate pledge goals.

---

Good Equals Progress provides industry research and analysis on the topics of Environmental, Social, and Governance (ESG) and Diversity, Equity, and Inclusion (DEI). These columns are for educational purposes only and should not be considered in any way investment advice.
The original version of this article was first published on Futurum Research.
Image Credit: Honeywell